Education/Formation of the Young
The Handmaids of the Holy Child Jesus are generally known as devoted teachers and educational administrators. This has earned us a reputation for competent educational management at all levels. We form the whole person, in morals, discipline, virtues and academics. As our Mother Foundress said:
"Be constant in training children in what is right, what will help them to be good citizens of their nation, to be good Christians, God fearing, God loving, at all times"
Through Education at all levels, ranging from Nursery Schools to Universities, we share in the teaching ministry of Christ as we teach, train and prepare our students/pupils to meet the challenges of life and not just to obtain the Certificates.  Our ministry extends to special Schools for the handicapped children and adults.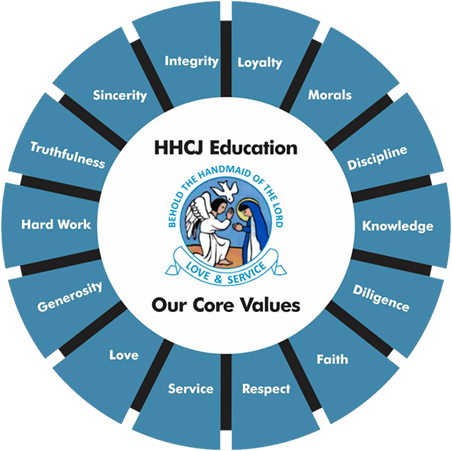 Ancilla International Nursery/Primary School, Ikot Ansa, Calabar. Nigeria
Charles Walker International Nursery/Primary School, Calabar. Nigeria
Handmaids Int. Nursery/Primary School, Obudu. Nigeria
Handmaids Infant Jesus Nursery/Primary School, Oron, Akwa Ibom State. Nigeria
Madonna Montessori Nursery and Primary School, Calabar. Nigeria
Handmaids Prince of Peace Montessori Nursery/Primary School, Anua. Nigeria
Ancilla Nursery and Basic School, Nunya. Nigeria
Handmaids Assumpta N/B School, Aladimma. Nigeria
Handmaids Assumpta N/B School, Owerri. Nigeria
Handmaids Infant Jesus N/B School, Awka. Nigeria
Handmaids Montessori N/B Sch, Iyiowa OdoEkpe. Nigeria
Handmaids Montessori N/P School, Ogidi, Onitsha. Nigeria
Handmaids N/B School, Azuiyiokwu. Abakaliki. Nigeria
Handmaids Nursery and Basic School, Iboko.
Nigeria Handmaids Nursery and Basic School, Isuochi. Nigeria
Handmaids Nursery and Basic School, Obube. Nigeria
Handmaids Nursery and Basic School, Ututu. Nigeria
Handmaids Schools, Igwurita. Nigeria
Handmaids Day-Care, Aguda, Lagos. Nigeria
Handmaids Int. Catholic School, Aguda, Lagos. Nigeria
Handmaids N/P School, Ibiade, Ijebu Ode. Nigeria
Handmaids Nursery and Primary School, Idi-Ayunre. Nigeria
Handmaids Nursery School, Garki, Area III, Abuja. Nigeria
Ancilla Catholic Academy, Outspan, Kenya
Ancilla Primary and Junior High School, Accra. Ghana
Handmaids Preparatory and Junior High, Nsoatre. Ghana
Ancilla Montessori, Tepa. Ghana
Ancilla Primary School, Wa. Ghana
Ancilla Preparatory, Atwima-Boko. Ghana
Ancilla Girls' College, Calabar. Nigeria
Annunciation Girls' Juniorate, Moniaya, Ogoja. Nigeria
Assumption Girls' Juniorate, Ndon Ebom, Akwa Ibom State. Nigeria
Charles Walker Vocational Training School, Anua, Uyo. Akwa Ibom State. Nigeria
Handmaid Girls' College, Obudu. Nigeria
Holy Child Secondary School, Ikom, Cross River state. Nigeria
Infant Jesus Model Secondary School, Oron, Akwa IBom State. Nigeria
Loreto Girls' Juniorate, Eriam-Afaha Obong, Abak, Akwa Ibom State. Nigeria
Mother Ignatia Vocational Centre, Ikot Ansa, Calabar. Nigeria
Handmaids Juniorate, Amumara, Mbaise. Nigeria
Handmaids Girls' Model Sec. School, Area G, Owerri. Nigeria
Handmaids Girls' Secondary School, Amansea, Anambra State. Nigeria
Handmaids Girls' Secondary School, Obube, Imo State. Nigeria
School Acquisition Center, Isuochi. Nigeria
HHCJ Assumpta Girls Model Sec. Sch. Owerri. Nigeria
Ganaka International Schools, Jos. Nigeria
Handmaids Girls Secondary School, Kuje, Abuja. Nigeria
Handmaids Secondary School, Idi-Ayunre. Nigeria
Handmaids Secondary School, Ijebu-Ode. Nigeria
Ancilla Catholic Comprehensive College, Wosing, Bali, Mezam Division, Bamenda, North West Region, Cameroon
Ancilla Vocational Training Institute, Majengo. Kenya
Ancilla Vocational College, Kiembeni. Kenya
Centre de Formation Professionelle Hoteliere, Lome, Togo
Register to become a hand maiden